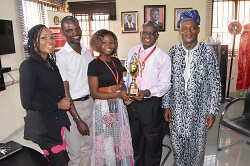 The Kings University debate team has emerged third at the Centre for Human Security Inter-University debate competition held at the Olusegun Obasanjo Presidential Library, Abeokuta on the 2nd of March, 2017.
The competition which was the first outing by the KU debate team was part of activities lined up in commemoration of the grand opening of the Olusegun Obasanjo Presidential Library and the celebration of the 80th birthday of former President Chief Olusegun Obasanjo.
The debate competition with its theme as "Presidential libraries will reduce leadership deficit in Africa" had 8 universities from across the country argue for and against. KU debate team was ranked 3rd after arguing for the topic at the competition.