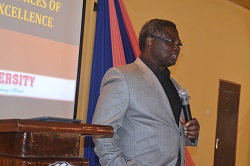 Kings University community has been enjoined to push themselves beyond their limitation to become successful in life. The Chancellor, Senior Pastor Matthew Ashimolowo said this during the Third Chancellor's Lecture titled "The Forces of Excellence" held at the University's Lecture Theatre.
The Chancellor who was having his first lecture of the year also stated that there are no shortcuts to success other than hard work.
In his words "For you to become successful in life, you need to be living in the future in your thinking so as to be ahead of your colleagues" He added that the chance of becoming a success in Nigeria is very low as statistics show that about 109 million other Nigerians are also competing to be successful.
He further highlighted the following Forces of Excellence; force of vision, force of information, force of strategy, force of focus, force of self-knowledge and force of faith. He later urged students to wake up and be the best by achieving their goals.
Present at the occasion were the Vice-Chancellor, Professor Oladiran Famurewa, Registrar, Mrs Dorothy Salami, University Librarian, Venerable Fola Akindojutimi, Dean of Humanities, Management and Social Science, Professor Wale Adesina, staff and students.