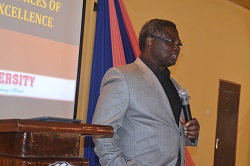 The Chancellor of Kings University, Senior Pastor Matthew Ashimolowo of Kingsway International Christian Centre (KICC) while delivering a lecture at Kings University enjoined the entire Kings University community to learn from the characteristics exhibited by ants, as ants live as one of the most organised animals on the face of the earth.
In his lecture titled "13 Lessons from Anthill Business School", the Chancellor stated that the lessons learnt from the way ants live can help propel man for the ever-changing corporate world, especially as students will be competing with a large number of their colleagues when they become graduates.
He highlighted 5 of the 13 characteristics exhibited by ants as teamwork, organisational effectiveness, hard work or drive, unity and planning.
The Senior Pastor also mentioned that there would be a time when employers will not be interested in hiring graduates for their qualifications but how effective they are in carrying out delegated duties.
He therefore urged both staff and students to strive to become effective in all their endeavours such that they will be recognised for the value they add to the community and the country at large.
The University community was also encouraged to keep learning so as to impact the society, while also emphasizing that life is measured by impact rather than longevity.
The Chancellor later congratulated the Kings University Debate Team, most especially, the lead presenter, Ayokunnu Melody, a 200 level student of International Relations, for coming third at the Inter-University Debate Competition organised by the Olusegun Obasanjo Presidential Library in Abeokuta, Ogun State.