Dr Oyedotun M. Oyeleke
January 11, 2022
2022-01-11 17:52
Dr Oyedotun M. Oyeleke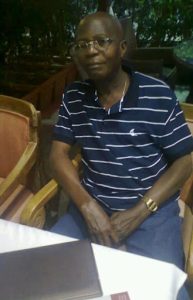 HOD Department of Chemical Sciences
Dr. Oyedotun M. Oyeleke
PhD. (Biochemsitry & Nutrition)
Department:
Chemical Sciences
Faculty: 
Science
Dr. Oyedotun  Oyeleke bagged a PhD degree in Biochemistry and Nutrition from the University of Ibadan in 1979. His scientific experience includes basic organic solvent extraction techniques, handling of experimental animals, enzymes kinetic assays, Enzyme-Linked Immunosorbent Assay (ELISA), microscopy, histology, electrophoresis, spectrophotometry, etc.
His research focus includes nutraceuticals, nutritional biochemistry, phytomedicine, and toxicology. Dr Oyeleke belongs to a number of Professional Societies such as Nigerian Society of Biochemistry and Molecular Biology, Nig Institute of Food Science & Technology, Nigerian Institute of Management, African Nutrition Congress, and so on.
He has also received awards and honours in recognition of his efforts, distinguished services, and contributions to his career and associated organizations. He has published more than 35 research articles in peer-reviewed journals and book chapters.