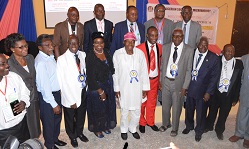 Kings University has played a host to the 1st Annual Zonal Symposium organized by the Nigerian Society for Microbiology (NSM) South-West zone in a bid to show more support for research work which will consequently aid development of solutions to solve societal problems.

The 3-day symposium themed Harnessing Microbes for Health and Wealth was the very first in the zone and served as exchange of knowledge and ideas to all microbiologist across the Country. The symposium which had many scholars from various Universities represented also had renowned Professors in the microbiology field present.

In his welcome address, the Vice-Chancellor, Professor Oladiran Famurewa who is also a microbiologist appreciated the National Executive Council of the NSM for deeming it fit in making Kings University the host for the maiden edition of the zonal symposium.

According to him, the symposium will provide an avenue for professionals in the field to foster new ideas for scientific development in the zone.

He further enjoined his colleagues to fully participate and make research findings contribution which will ensure the success of the event.

The Chancellor, Senior Pastor Matthew Ashimolowo, represented by the Vice-Chancellor, in his opening remarks expressed his pleasure at Kings University being chosen as the venue for the epoch making event.

He further appreciated the symposium team and members of the organizing committee for the time and dedication shown in ensuring the success of the event.

He later charged participants to put to use the knowledge gained as a result of the symposium.
The South-West Zonal Coordinator of NSM in his speech commended Kings University for taking up the responsibility to host the event, adding that it is the first time such a symposium will be taking place in a private University.

He further assured participants that the conference will not only be beneficial to them academically but enhance social interactions among colleagues.

Some of the highlights of the event were the presentation of awards to the keynote speaker, Professor O.M. Onagbesan, Lead presenter Professor (Mrs) Bukola Kuforiji, Distinguished Professors in the microbiological field and the Vice-Chancellor, Professor Oladiran Famurewa who was awarded a Fellow of the NSM for his contribution to the development of microbiology in Nigeria.

Present at the Occasion were the Registrar, Mrs Dorothy Salami, University Librarian, Venerable Fola Akindojutimi, Bursar, Elder Babatunde Apata, Dean, Faculty of Science, Professor Albert Achudume, National President of NSM, Professor K.I. Eniola among others.