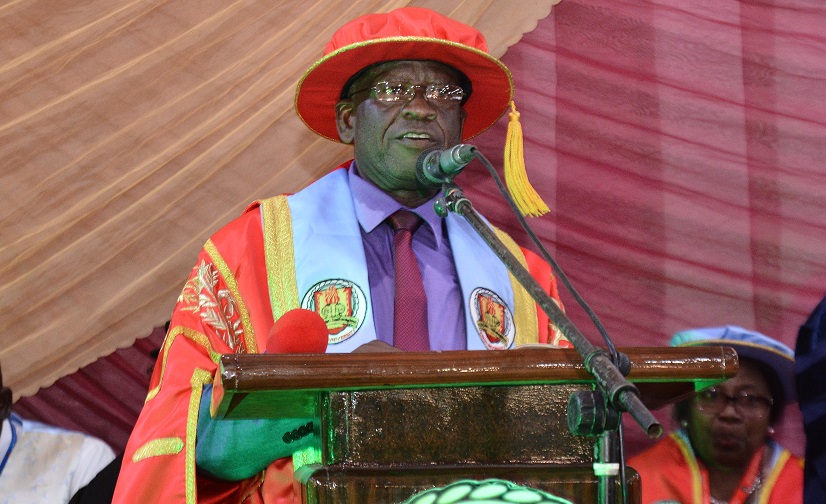 PROTOCOL
PREAMBLE
It is with a heart of gratitude to the Most High God and my greatest pleasure to welcome you to the Maiden Convocation Ceremony of Kings University, Odeomu for the conferment of first degrees on our graduating pioneer students, the Class of Genesis 2019, a name that you, the graduands have adopted, to recognise and reward excellence.
I heartily welcome His Excellency, the Governor of the State of Osun, Alhaji Gboyega Oyetola. I also recognise and welcome the Honourable Commissioner for Education, State of Osun to this landmark event. I am most delighted to welcome our distinguished Chancellor, Senior Pastor Matthew Ashimolowo. We are indeed very glad to have you in our midst, as always, to preside over this Maiden Convocation ceremony. We acknowledge and sincerely appreciate your sterling leadership which has been of immense benefit to the University. May I at this point also welcome everyone on the entourage of the Chancellor and the larger KICC family and congratulate all and sundry for this very momentous occasion.
I welcome the Chairman, Board of Trustees, Professor G.O.A Sowemimo and other distinguished members of the Board. Baba C.F.O. Olaniyan, you are most welcome, Sir, Congratulations on your 90th birthday which was celebrated recently. Permit me to specially recognise and welcome the Pro-Chancellor and Chairman of the Governing Council, Dr. Dipo Oluyomi and other members of the Council.
It gives me great delight to welcome the Executive Secretary of NUC, Professor Abubakar Rasheed and the Registrar of the Joint Matriculation Board, (JAMB), Professor Is-haq Olarewaju Olorode. I am equally delighted to welcome the Convocation Lecturer, a consummate academic and an accomplished University administrator, Professor Michael Faborode, the former Vice-Chancellor of Obafemi Awolowo University and immediate past Secretary-General of the Association of Vice-Chancellors of Nigerian Universities (AVCNU). I thank you most sincerely for the stimulating lecture.
On behalf of Council, Senate, Management, Staff and Students, I wish to most specially welcome a global academic icon, Professor Peter Akinsola Okebukola, OFR former Executive Secretary (NUC), a great motivator, who has been a pillar of support for me personally and the University.
I welcome and appreciate the Secretary General of the Association of Vice-Chancellors of Nigerian Universities (AVCNU), fellow Vice-Chancellors and their representatives, Principal Officers of sister Universities, and other tertiary institutions at this very important occasion.
It is my honour to welcome our Royal Fathers and in particular, His Imperial Majesty Ooni Babatunde Adeyeye Enitan Ogunwusi, Ojaja II, our Host, His Royal Majesty Oba Lamidi Oke Ladowe I, Alayegun of Odeomu, other respected Royal and Spiritual fathers present.
My very special and warm welcome to the Kingsway International Christian Centre (KICC) big family, home and abroad. Your contributions, show of love and support in all ramifications are greatly appreciated.
Permit me to specially recognise the Odeomu Development Union (ODU) and the Town- Gown Committee under the leadership of Mr. Akin Olaniyi and Barrister Adeyemi, respectively and other members of our host community here present. The Executive members of the Kings University Parents Forum and all Parents, Guardians, and all our guests are most specially welcome here to celebrate with us. I will definitely not fail to recognise and appreciate all the members staff of the University here present who have laboured to nurture and support the graduands of today in the pursuit of their goals. Last, but definitely not the least, let me recognise, acknowledge and in a special way felicitate with our graduands, the Class of Genesis 2019. You are the sole reason that we are all here today from far and near. Therefore, I wish to thank God for you that you made this far. The journey started just about 41 months ago in 2016 when you stepped on this campus as the pioneer students, to the time you had your last examinations and the results were approved by Senate. We therefore, thank the Almighty God, The Most Merciful and the most Benevolent for His unending grace and infinite mercy throughout this journey. We pray that He that has started this wondrous/marvellous thing in your lives shall never forsake you, the institution and all of us. With you, we are assured of a very bright future for our nation, for you have been raised and transformed specially. The hour of recovery has come. You have no doubt validated the labours and investments. We, all parents/guardians, teachers, administrators and indeed all stakeholders share in your well-deserved joy. I salute your courage, diligence, perseverance, and I am confident that our core values that you have imbibed will put you on a better pedestal in the larger society and wherever you may find yourselves.
How we stand
At this special, epoch making event, we are presenting 64 graduands of the pioneer set for the award of first degrees in ten disciplines/programmes while prizes will be presented to the outstanding graduands. The breakdown of graduands is as follows:

S/N

Faculty

Programme

Performance

1st Class

2nd Class Upper Division

2nd Class Lower Division

3rd Class

Total

1.

HMSS

Accounting

1

7

1

-

9

2.

Business Administration

-

1

1

1

3

3.

Economics

-

3

-

-

3

4.

English

-

3

-

-

3

5.

International Relations

3

12

1

-

16

6.

Political Science

1

5

2

-

8

7.

Science

Biochemistry

4

-

-

-

4

8.

Biotechnology

-

2

-

-

2

9.

Computer Science

1

9

1

-

11

10.

Microbiology

1

3

1

-

4

Total

10

45

8

1

64
A cursory look at the Table shows that ten of the 64 graduands (15.6%) made First Class (Honours). Let me however, quickly add that this issue of performance was discussed at the Annual Conference of the Association of the Vice-Chancellors of Nigerian Universities (AVCNU) at Ibadan in August, 2019. A very simple explanation provided was that certain conditions, actions and events from either staff or students are not acceptable in most private Universities, hence the academic matters are taken more seriously.
The Chancellor Sir, distinguished guests, I heartily congratulate all graduands that have distinguished themselves and made First Class (honours) and those who had distinctions. I particularly recognise the overall best graduating students in this Genesis 2018/2019 academic session, Emerson, Amanda Sopuruchi, Department of Chemical Science, Biochemistry Unit, with a CGPA of 4.70.
The Journey so far – Milestones
While it is usual/normal that at a Convocation ceremony such as this, we have come to celebrate and felicitate with the institution, graduands and the proud parents and or guardians, it is also pertinent and most expedient for stock taking of activities and events over the past years, and in our case, the past 41 months. One consistent feature of our activities so far is keeping faith with our stakeholders, which include our students, their parents/guardians and our Proprietors. Our efforts, during the past years have therefore concentrated on academic excellence, Godliness, spirituality and maintaining our core values as an institution. Our Motto says it simply; Raising Leaders and Transforming Minds.
It is heart-warming to inform you that by the grace of The Almighty and with the full support of all stakeholders, Kings University has recorded modest accomplishments in its early age. It is therefore expedient to highlight the following:
Academic endeavours
From inception, Kings University imbibed the culture of excellence (in all ramifications) with focus on producing globally competitive graduates, raised with transformed minds. Therefore, permit me to highlight some of the landmark events in those areas thus far:
In an attempt to develop entrepreneurial skills along academic endeavours barely 9 months into her of existence, the Kings University Centre for Entrepreneurship was formally inaugurated during the Global Week for Entrepreneurship and was inducted into the Global body, ENACTUS on November 18, 2016. At this event, our students showcased their products and two were selected as the best; a handy vacuum cleaner by Ladi Lawal, and a lady hair shampoo by Feyi Babatope all developed using local materials. The event was witnessed by an expert in Waste to Wealth Creation, Engineer Chad Brooking, a Canadian resident in Switzerland who spent a couple of days in the University. Engineer Brooking delivered a lecture on Waste Management and the Entrepreneurial Spirit at the occasion. In the month that followed, our Department of Biological Sciences successfully hosted the Nigerian Society for Microbiology by organising the Maiden Symposium of the South West Zone between December 5 and 8, 2016. The Keynote Speakers at the event included Professor O. M. Onagbesan, Director of Centre for Biotechnology, Federal University of Agriculture, Abeokuta, and Prof. (Mrs.) Bukola Kuforiji, current Deputy Vice-Chancellor, Bells University, Otta.
Kings University, in pursuit of its set trajectory of becoming a globally competitive institution and among the best in our country, emerged in the third position in an Inter-University Debate Competition which was held at the Centre for Human Security, Presidential Library, Abeokuta, on Thursday 2nd of March, 2017, barely a year after commencement of academic activities.
In January, 2017 we had a workshop by the National Information Technology Development (NITDA) and Phinnx.com tagged One School System e-learning.
The University Lecture Series commenced with the maiden lecture delivered by a consummate academic and an accomplished University Administrator, Professor Oyewusi Ibidapo-Obe OFR, FAS on Leadership Management of Innovation and the University of the Future. The last in series of this lecture was delivered this year by an author and erudite scholar, Professor Olayiwola Oladele, a Professor of Business Law and Provost, College of Law, Bowen University, Iwo on Higher Education: Back to Basics, Surmounting the Present and Strategizing for the Future.
In the same vein, the Faculty Lecture Series of our two present Faculties, continued to resonate with the invitation of renown scholars from not only our Universities but also from around the world. One of the series for our Faculty of Humanities, Management and Social Sciences was delivered byNg Miew Luan from SEGi University, Malaysia in 2017. She spoke on Chinese Press and Malaysian Politics: Sin Chew Daily and the Malaysian 13th General Election. All these are aside from the regular faculty and departmental seminars.
Perhaps the icing on the (our) cake in the lecture series was the regular lecture delivered by no less a person than our indefatigable, amiable and spiritually unrelenting Chancellor, Senior Pastor Matthew Ashimolowo on Leadership. Some of these lectures are:
Critical Elements of successful leadership.
35 marks of irrepressible leadership.
The power of strategic planning.
Releasing the forces of excellence.
13 lessons from anthill business school.
10 practical steps toward self-transformations.
Have a great day.
The force of excellence.
He once said that Where progress is desired, change is inevitable. This encapsulates doing things differently to get different results. Part of the things in that simple quote, we are witnessing here today and more are still to come soon in Jesus Name.
The University obtained accreditation for all its programmes presently run and efforts are ongoing for the approval of additional programmes by the NUC. We want to thank the Proprietor for facilitating this through the release of funds to equip our laboratories with state-of-the-art equipment, among others.
It is perhaps also worthy of mention here that all our lectures are recorded and uploaded for easy retrieval by our students to aid revision. There is a constant upgrading of our ICT resources which facilitated our Open Educational Resources (OER) context to emerge 28th among all participating Nigerian Universities and 7th among second generation Private Universities in the ranking test of Nigerian Universities Systems Open Educational Resources (NUSOER) carried out in 2018 by NUC.
Kings University Library has recently increased the volume of books and journals with the E-Library also being regularly updated. We wish at this point to appreciate some of our partners, particularly Obafemi Awolowo University, Ile-Ife, National Open University of Nigeria, Abuja, and Morgan State University, Maryland, USA.
Research Development and Linkages
Concerted and collaborative efforts are in place to push the frontiers of knowledge through research, innovation and entrepreneurship. We are striving for academic excellence which can be attained througcollaborations and linkages.
Our staff, through collaborative engagements have been involved in quality and impactful need-driven research activities.
Kings University has various ongoing activities aimed at making the University a Centre of Excellence in research, innovation and product development with the exploitation of materials particularly from our immediate locality and environment. Currently, we are in the process of conducting chemical analyses of some of the products of the KU-Centre for Entrepreneurship in order to take them to the next level.
In spite of its age, Kings University is now a trailblazer in Scientific Research. The research groups led by Prof. Adenike Kuku, Prof. Olu. Malomo and Dr. Dotun Oyeleke, have produced breakthroughs in the following areas:
Production of biofuel from industrial brewery waste, which will reduce our over-dependence on petroleum products, when applied on an industrial scale
Our local green plants are being researched into for healing diseases as evidenced in the extract of Vernolia amygdalina (ewuro), Curcuma longa (turmeric) in the cure of cancer. There are other studies in the pipe line; this is just to mention a few,
A group of our colleagues in the Faculty of Science under the leadership of Dr. Oyeleke (formerly with Pfizer) is working on some indegenous plants which have shown lethal effects on mosquitoes and other insects. This is with a view to producing insecticides and formulations for use as insect repellants.
Concerted efforts are therefore ongoing to convert our financial resources to knowledge and the knowledge so acquired into wealth through innovation for the development of our immediate environment and beyond.
We have explored partnership and cooperation starting first from home and across the globe to enable the University to project itself within the global system of higher education. Naturally, Obafemi Awolowo University which is our anointed Institution by the National Universities Commission and then Morgan State University, Maryland, USA, while others are ongoing with SEGi University, Malaysia, Kerri University, Dublin, Ireland, University of the Commonwealth Caribbean, Kingston, Jamaica and the University of Madagascar, and some African Universities. For instance, Dr. O. Fawehinmi in collaboration with colleagues in the School of Accounting, Economics and Finance, College of Law and Management Studies, University of KwaZulu-Natal, Durban, South Africa is working on Monetary policy and manufacturing sector growth in Africa's oil exporting countries (AOECs).
Solomon D. Hill, Doctoral Student, Millersville University, Pennsylvania, USA with focus on leadership, chose and visited Kings University to study the operational and leadership functions of several higher education institutions and make a comparison with higher education institutions in the United States.
Conferences, Workshops and Capacity Building
In view of the ever-increasing challenges in human capacity development and the need for effective and efficient performance to enhance productivity, we encourage attendance at conferences and workshops with generous support from our Proprietor. However, like Oliver Twist, we can only ask for more. However, the dedication and commitment of many members of staff must be commended as they frequently attend many of these conferences and workshops at their own expense when funds are limited.
It is noteworthy to mention just a few. Mrs. O.M. Aladejana (Biological Sciences) participated at a Conference in Uganda in 2018 (preparing for the 2019 edition in Canada), Miss Akintola was in Ghana, Mr. Abati was in Scotland in 2018, 2019 and he is preparing for yet another in South Africa (CODESTRAI) and Mr. A.T. Adebgaigbe attended and presented papers at the South African Conference. All these were aside from attendance at national conferences. Expect to update; still expecting info from the Committee, please.
Some members of our academic staff completed their PhD degree programmes from various Universities, viz., Dr. O. O. Daramola, Dr. Mrs O. M. Aladejana and A. T. Adegbayibi while a few others are awaiting their viva very soon.
Likewise, regular workshops are organised in-house for staff and students while attendance and participation in other institutions, at national and international levels have been given due consideration and support. Some of these have been listed in a separate publication tagged Annual Reports.
Benefaction and Donations received by the University
A number of individuals, organizations and groups have supported the University within the period under review, thereby promoting and supporting the vision and mission of the University. Such donations included books, laboratory equipment and other materials, which been listed in another publication and aside from our register. We are deeply appreciative of the kind gestures and they are assured of the judicious utilization of the materials.
Community Relationship
In our effort to be relevant and responsive to our host community and maintain cordial relationship, we have a Town-Gown Committee in place. The Computer Science Unit of our Department of Mathematical Sciences in conjunction with the ICT unit placed the Odeomu town on Google Map in 2017. Our students organised the back to school campaign in different forms, while the schools, particularly secondary school pupils are hosted here on campus for one programme or the other.
Also as part of service to the Community, our Campus regularly provides the environment for hosting the annual Chacellor's widow's programme.
The on-the-job development programme for secondary school teachers particularly in ICT and teaching subjects should commence in earnest.
Heart of Gratitude/Appreciation
Mr Chancellor Sir, distinguished guests, ladies and gentlemen, with a deeply grateful heart; I bless and extol the Almighty God for His ever-loving kindness, grace and mercy, for hitherto He has helped us. At this juncture, I will like to appreciate all the wonderful people; individuals and institutions that God has used to assist in not only piloting the affairs of this institution but also in making this day possible. First and foremost, my appreciation is to God that makes all things possible and to happen at His appointed time, for His faithfulness. He demonstrated His goodness to us in every circumstance. To Him alone be all the glory and honour.
I wish to appreciate and thank the man whom God granted the vision of this project, God's own project as I call it, our Chancellor, Senior Pastor Matthew Ashimolowo. His passion for this institution, more importantly for the development of Odeomu and to the benefit of mankind that I have come to know in the past four years of working directly and indirectly with him, is unparalleled. Giving back to his source!!! I thank the BOT Chairman, Professor G.O.C. Sowemimo and other members of the Board. I wish to specially appreciate the Secretary to the BOT, our amiable Pastor Femi Faseru for his untiring efforts and for standingby us always during this period. Our interaction and relationship will remain indelible considering many factors. The very low subscription of candidates year in year out gave me and the Management Team several challenges, but what I kept hearing from him was, God first, staff salaries next (my own words). While we kept hearing of non-payment of salaries for several months in some other private and even public sister institutions, that was never our portion at Kings University. Thank you for this.
Permit me at this point to appreciate our gentle, amiable, soft spoken and radiant Pro-Chancellor and Chairman of Council, who by his calling is a Medical Doctor and accomplished man of God in the Vineyard, Dr. Dipo Oluyomi and other members of the Governing Council. We thank you all for your selfless services and support.
At this juncture, may I pause for a while, to pay homage to the KICC family both at home and in the Diaspora. Your show of love to humanity, passion for the University and sense of purpose are incomparable. I thank you most sincerely for your contributions and sacrifices in all ramifications. Your labour of love shall never be in vain. You are all greatly appreciated.
I am especially grateful to our Kabiyesi and our host community; the good, energetic and loving people of Odeomu; the Odeomu Development Union, through the President Alhaji Akin Olaniyi, and the Town Gown Committee, through the Chairman, Barrister Adeyemo, you have been exceptional, the past Executives of ODU under our loving Professor Isaac Ojo, we appreciate the wonderful role you played from inception till date. I cannot but mention my brother and Senior at Ipetu Ijesa Grammar School, the energetic and stylish footballer of our time then, Chief Oye Agunbiade (aka Agun Bay), we took after you.
I will like to appreciate the defunct Implementation Committee under the leadership of Professor Sola Akinrinde that worked tirelessly and passionately to produce the template for the eventual take off of the University handed over to the Management Team. And for my pioneer colleagues in Management, Deans of Faculty, Heads of Department, all academic and academic-support staff it has been a very difficult and challenging period for all and sundry but the Lord has been with us, such that we are witnessing this marvellous day that He has made. Kings University System and I in particular would remain forever indebted to you. You all, to the best of your individual abilities and sometimes beyond the call to duty, worked like a family to place the institution on a high pedestal. Without the exhibited cooperation and support, we may not be here today. The clarion call to us is to raise the bar by improving our standard to develop fast into a world class University of our dream. May the Lord continually be with us and help us all.
Some other colleagues had supported and assisted us in the past who are either no longer here or did that remotely. Let me quickly mention just a few of them. Professors Wale Adesina, Wale Olajide, A.M. Abiodun (all from Ekiti State University, Ado-Ekiti) and Professor Gbenga Olumekun, (Adekule Ajasin University, Akungba-Akoko and his team). Others are Professors O.M. Ologunde, S.O. Olubisi, P.O. Omidiora, and S.O. Amuda, (Ladoke Akintola University of Technology, Ogbomoso), Professors T.O. Asaolu, and Ogunbameru, and Dr. Mrs R.I. Ako-Nai among other (Obafemi Awolowo University, Ile-Ife), Drs. C.O. Akanbi, Patrick Ozoh (Osun State University, Osogbo) and Dr. J.O. Olanlokun (University of Ibadan, Ibadan) among others.
Particular mention must be made of that wonderful teachers, Pastor Wale Akinyanmi and Professor Gbenga Olumekun, who blazed the trail of Entrepreneurship Development from inception which a number of students like Femi Taylor and others have built upon.
I appreciate the proud parents/guardians of our celebrants of today for entrusting us with the care and training of these wonderful ladies and gentlemen, the great minds and our future leaders. May you never regret over them.
Lastly, to our pioneer graduands, let me once again heartily congratulate and most specially felicitate with you on this very unique occasion which is certainly a special day and the beginning of the fulfilment of the dreams you had. As teachers, parents/guardians, administrators and stakeholders, we all share in your well-deserved joy. I salute your tenacity, dexterity, resilience and sense of purpose. I am therefore, very convinced that the culture you imbibed at Kings University will place you in better pedestal. Your graduation today is surely evidence that none of us has laboured in vain. You are the first fruits of Kings University, released to impact the society and the larger world. My admonition has been succinctly espoused by our dear Chancellor. Always remember our discussions during our formal and informal interactions and the wordings/contents of the University Anthem. Be Godly in all things. Be worthy ambassadors (first set of ambassadors, the pace setters; all eyes will be on you [cynosure of all eyes]). Remember that you chose to be called Genesis Class 2019. You shall always be the first and original, never behind or last. Remember that faith makes everything possible, continue to be strong in it; hope makes everything work, keep your hopes alive and believe in yourself. Love makes everything beautiful, radiate and show it always as this is the greatest of all laws and the key to success and open doors. May you have all these three as you begin the journey into the next phase of life and always remember to give back as part of what you have learnt about life. The University is expecting you as alumni to always relate with us wherever you go.
In conclusion, I look at this moment in Valediction as I may not have a better opportunity to express my personal gratitude to all and in particular our Chancellor and the Board of Trustees for granting me an opportunity to make a modest yet indelible mark as the Pioneer Vice-Chancellor of Kings University, Odeomu. I am gratified that I am seeing the fruits of this labour, indeed our collective sacrifices. I hve done my best within the bounds of my God-given talents. On behalf of the University Community, my heart goes out in appreciation to all our friends, well-wishers, colleagues, fellow Vice-Chancellors, our traditional rulers, spiritual fathers, the big KICC family home and abroad, esteemed guests, all the good people of Odeomu, our wonderful host community, ladies and gentlemen, for making this unique gathering and celebration of academic excellence a huge success.
I am eternally grateful to you for your kind attention.
God bless.
Professor Dr.rer.nat. Oladiran Famurewa FNSM
Vice-Chancellor,
Kings University,
Odeomu.
October 25, 2019.