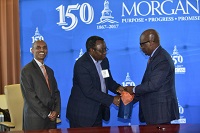 Kings University on Monday, 27th of November visited Morgan State University, Baltimore, Maryland, USA as part of the ongoing partnership for linkage programmes between both institutions.

The visit which was made by the Director, Academic Planning and Quality Assurance, Professor Oluwadare Malmo on behalf of Kings University occurred during the Morgan State University Founder's Day Event and Sesquicentennial celebration in the United States.
The event also hosted several distinguished Vice-Chancellors and other university officials from various institutions across Nigeria.
One of the highlights of the occasion was the signing of Memorandum of Understanding (MOU) between partnering institutions and Morgan State University, signaling convergence of a common line of action by all parties.