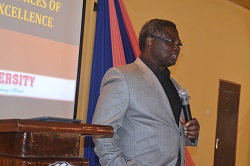 The Chancellor of Kings University, Odeomu Osun State, Senior Pastor Matthew Ashimolowo has enjoined the entire Kings University community to always ensure to have a great day by following the preparatory steps inspired by God. This, he did during one of the Chancellor's Lecture series of the Institution titled " 10 major steps on how to have a great day".

The Chancellor highlighted preparation, inspiration, organization, dedication, elimination, impartation, motivation, information, meditation and celebration as steps to having a great day. He stated that effectively managing a lifetime begins with efficiently managing a day while likening the lack of preparation for one's day to a bird attempting to fly without wings.

Rather than spending time on Facebook and other social media platform that will not make meaningful impact on their lives. The Chancellor enjoined Kings University Students add value daily to their lives and this is essential if one wants to effectively touch the lives of others.

He then urged the University community to always dwell in the presence of God to ensure that their steps are ordered divinely.