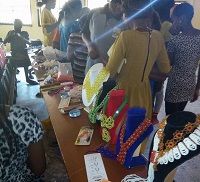 As part of plans to raise graduates who will eventually become job creators as against jo seekers in the economy, the Management of kings university on Saturday 3rd June, 2017 organised a skill acquisition training programme for its students.

The focus of the programme was to enable students acquire skills that would become beneficial to them and consequently make them more self-reliant in preparedness for the future

Taking students through the "Dynamic of Entrepreneurship", the convener, Mr. Oluranti Adewoye, of Ranking Scheme Consult described entrepreneurship as "when individual identify opportunities. Allocate resources and create value through the identification of unmet needs or opportunities".

Mr Adewoye stated that small business entrepreneurs are the sole and ultimate creators of wealth in the country today. He added that the government can only create an enabling environment for such business to grow.

He further enjoined student to come up with business idea that they are passionate about for sustainability.
Students were also taken through the art of bead making. Where they learnt at different stages how to use bead materials to make necklace, bracelets and other bead products for business purposes.