KU Holds Orientation Programme For Fresh Students
January 14, 2022
2022-01-17 14:11
KU Holds Orientation Programme For Fresh Students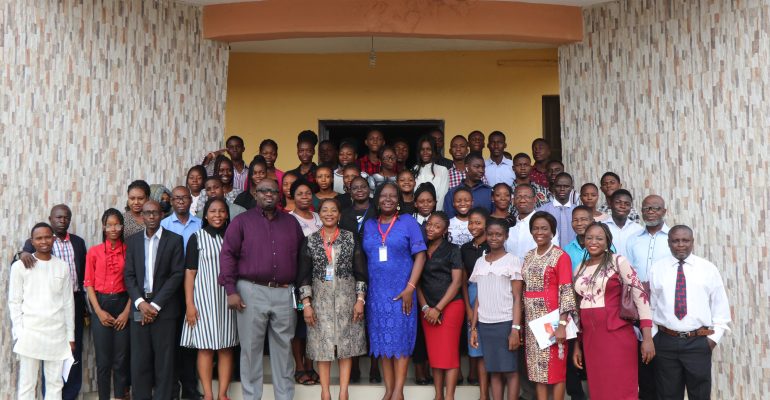 KU Holds Orientation Programme For Fresh Students
An orientation programme was held for fresh students of Kings University on Thursday, 13th January 2022 at the University Lecture Theatre. The programme which marks the formal commencement of their academic pursuit was organized to keep them abreast of the information required to succeed as students of Kings University while also acquainting them with the Institution's mission, objectives, core values, rules, and regulations.
In her welcome address, the Vice-Chancellor, Professor Adenike Kuku congratulated the new students for their choice and admission into Kings University. The new students were encouraged by the Vice-Chancellor to utilize the unique opportunities and facilities that the University provides to learn new skills and harness their talents to become independent, self-reliant, and open-minded.
The Registrar, Ms. Temitayo Olowola in her address, spoke to the students on having a purpose and setting goals to come out tops in their academics. She further enlightened the students on the terms and conditions of the University scholarships. Lastly, she informed the new students that all activities of the chapel are compulsory, when flouted, the University has in place a disciplinary committee and a point-based system for dealing with such infractions.
The programme featured a number of speakers including; the Ag. Bursar, Mr. Adeyinka Adeosun, who spoke on managing your finances, cafeteria, and the alternative meals; Dr. Mrs Aje – Code of conduct and the regulations guiding the halls of residence; Dr. Daramola – Course Registrations: Its Importance and Implications, and CGPA calculation. Other speakers were Mr Fatomilola, Mr Okediji and Dr Jide Alao of the medical centre, who addressed the issues relating to conduct during examinations, use of the library, and the operations of the University medical centre.
In his closing remarks, the Dean of Students Affairs, Dr. Olu Fawehinmi wished the new students a fulfilling and enjoyable experience on the University campus, while also reiterating the need for the new students to unlearn, relearn new things and also imbibe the values that would shape their lives in their years ahead. Lastly, the students were enjoined to participate actively in the numerous activities on campus and also abide by the rules and regulations of the University.