A Happy New Year and Welcome Back Message to Staff and Students
January 5, 2022
2022-01-05 15:06
A Happy New Year and Welcome Back Message to Staff and Students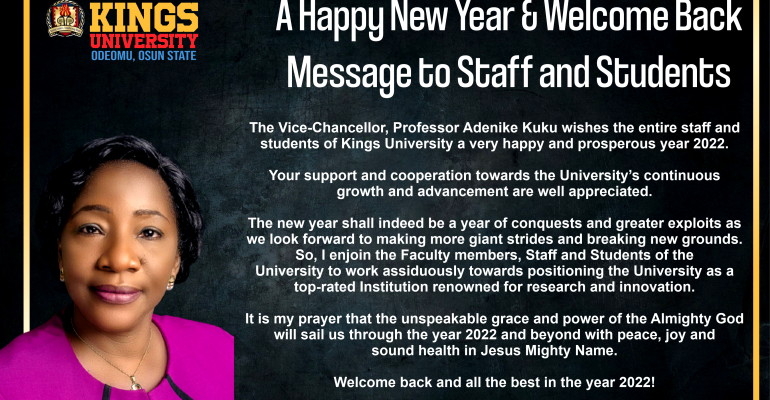 A Happy New Year and Welcome Back Message to Staff and Students
The Vice-Chancellor, Professor Adenike Kuku wishes the entire staff and students of Kings University a very happy and prosperous year 2022.
Your support and cooperation towards the University's continuous growth and advancement are well appreciated.
The new year shall indeed be a year of conquests and greater exploits as we look forward to making more giant strides and breaking new grounds. So, I enjoin the Faculty members, Staff and Students of the University to work assiduously towards positioning the University as a top-rated Institution renowned for research and innovation.
It is my prayer that the unspeakable grace and power of the Almighty God will sail us through the year 2022 and beyond with peace, joy and sound health in Jesus Mighty Name.
Welcome back and all the best in the year 2022!