Kings University VC, Prof. Kuku Bags Sir Abubakar Tafawa Balewa Distinguished Leadership Award
December 16, 2021
2021-12-16 17:31
Kings University VC, Prof. Kuku Bags Sir Abubakar Tafawa Balewa Distinguished Leadership Award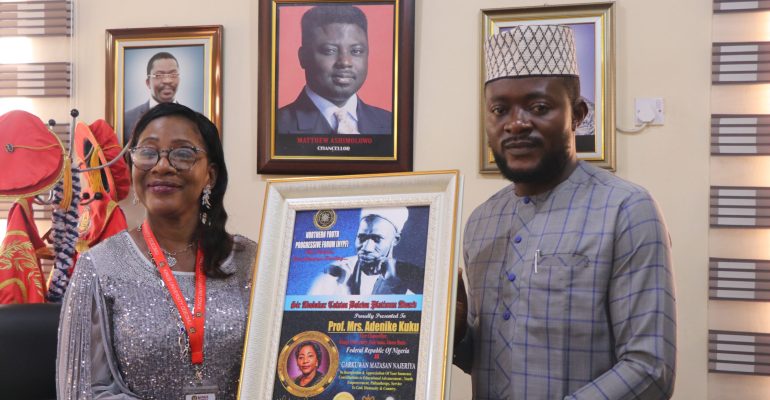 Kings University VC, Prof. Kuku Bags Sir Abubakar Tafawa Balewa Distinguished Leadership Award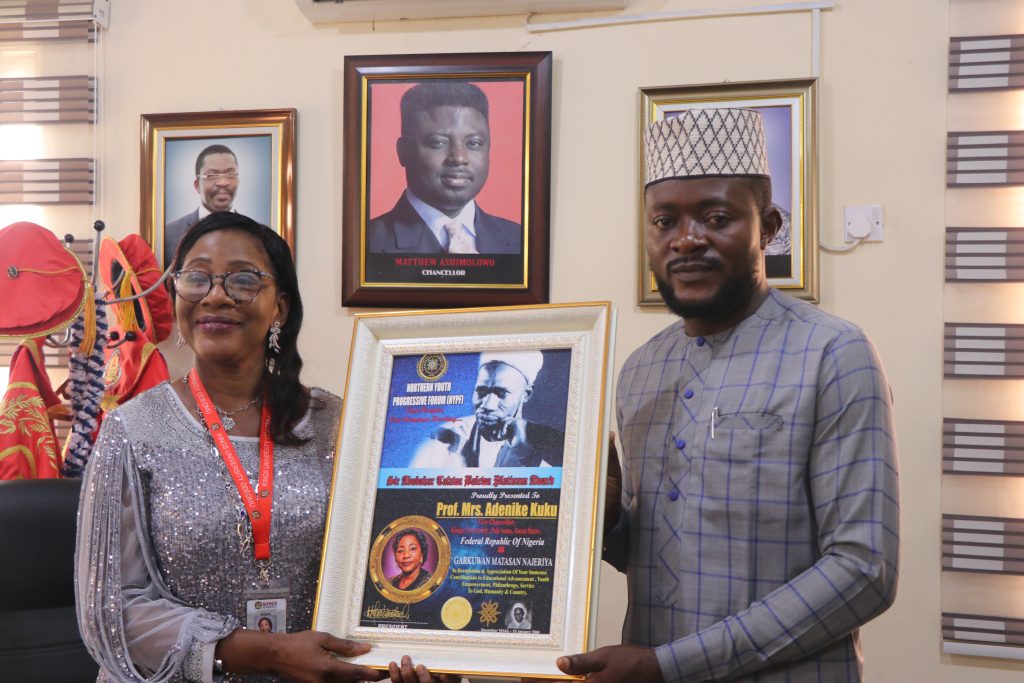 The Vice-Chancellor of Kings University Odeomu, Professor Adenike Kuku has bagged the Sir Abubakar Tafawa Balewa Distinguished Leadership Award, Garkuwarn Matasa Najeriya which means the "Shield of the Youths" in recognition of her exemplary leadership qualities and upliftment of the Nigerian Youths. The Award was conferred on the Vice-Chancellor by the Northern Youth Progressive Forum on Thursday, 16th December 2021 in her office.
In his address, Dr. Abdulmalik Jamil, who is the Vice- President of the group and leader of the delegation whose group membership cuts across the 19 Northern States and the Federal Capital Territory (FCT), noted that the nomination of Professor Kuku for the award was adopted without much difficulty considering her activities and remarkable contributions to societal transformation, upliftment of education, youth empowerment, and selfless service to humanity.
In her acceptance speech, the Vice-Chancellor, Professor Adenike Kuku expressed appreciation to the group for the recognition, stating that the award would serve as an encouragement as she continues to serve humanity. "When credible organizations like the Northern Youth Progressive Forum bestows on you the Sir Abubakar Tafawa Balewa Distinguished Leadership Award after an independent research on people and personalities that have contributed to the Nation's development, your heart is gladdened," the Vice-Chancellor remarked.
Speaking further, Professor Kuku, admonished the group not to relent in their advocacy and
philanthropic efforts in changing the narratives by supporting education initiatives and providing opportunities for the youths to become better versions of themselves. She appreciated the management, staff, and students of the University for their support as the University continues her upward trajectory as shown by the recently released National Universities Commission ranking where Kings University was rated the 16th best among Private Universities and 31st overall in Nigeria.